Structure Design
A new sustainable modular structure is the centerpiece of Compton YouthBuild's expansion plans in this underserved community in southern Los Angeles County.
A 600-sf modular classroom building in the heart of Compton, Calif., has the potential to mobilize an entire community around sustainability. At the helm of this transformation is Compton YouthBuild, a nonprofit organization whose mission is to provide rigorous educational and occupational opportunities for young people from economically distressed areas. Though construction training is an important component of the group's educational curriculum, its existing 11,000-sf building can't adequately accommodate the hands-on training necessary to equip its 16- to 24-year-old student members for future success as construction industry professionals.
The addition of a 15x40-foot prefabricated modular unit adjacent to this 1940s-era facility will serve as a standalone classroom for YouthBuild Compton's construction program. Taking up residence on the property's parking lot, the building—dubbed the Compton YouthBuild Education Center—will also provide an outdoor workspace that enables students to learn hands-on construction skills. "Our vision is to create an innovative green incubator space to serve our members and the broader community alike," says Sara Silva, Chief Financial and Operations Officer and Co-founder of Compton YouthBuild. "On weekdays, we will use the space as a construction classroom and laboratory, and in the evenings and weekends, we will provide space to like-minded nonprofit organizations to showcase green building to the city of Compton."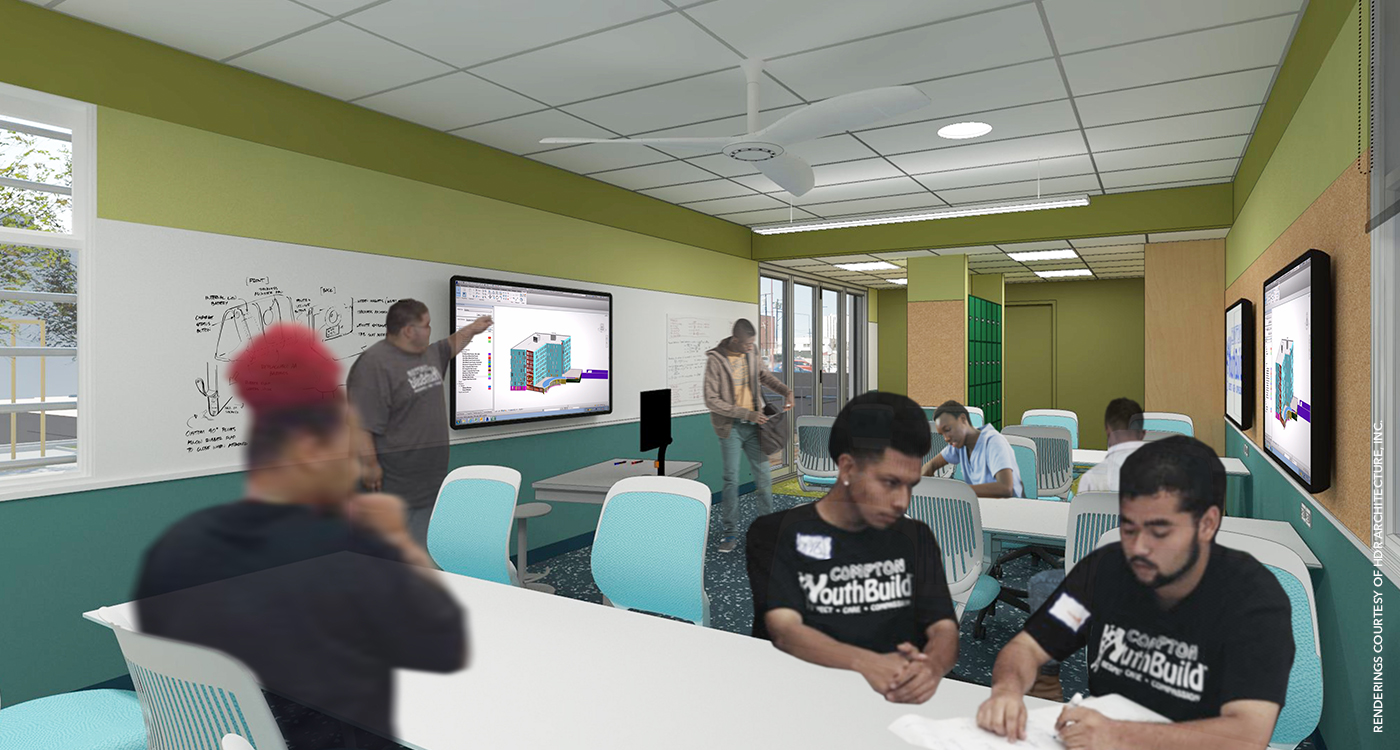 GUIDED BY LEED
The LEED for Schools v2009 rating system guided the design and building process. "We know that students perform better with natural light, and the building will get quite a bit of daylight through large windows and doors," says Nathan Young, CEO and Principal Builder at MODS PDX. "We've also focused on good acoustics to make certain that every student hears the instructor."
The building will serve as a showcase for innovative green building products and technologies, including super-insulated wall systems, a high-performance roof, rainwater collection, energy-efficient heating and cooling, and sustainable exterior and interior finishes. "The opportunity for young people to interact with all of the sustainable features that are being built into the structure will really give them an opportunity to become familiar with the technology that will be incorporated in buildings for the rest of their lifetimes," says Silva. "These are things they haven't had access to in the past." The green building innovations will also be accessible to the broader community, as Compton YouthBuild plans to reach out and share the facility with other organizations and individuals. "Through our partnership with the city of Compton and local affordable housing vendors, we hope to host demonstrations for homeowners so they can have access to these technologies," says Silva. "We can inspire the community at large to adopt green building practices."
Because the building is located in a high-crime area, the design incorporates a number of security measures, including metal screening over windows and doors to reduce the risk of break-ins and vandalism. But the project team took considerable effort to ensure that the building would remain transparent and welcoming. "One of the symbols of Compton YouthBuild is a ladder, so the security grilles on some of our smaller windows are designed to symbolize climbing up and reaching toward leadership in the community," says Diamond. The building is fully accessible, and its ramp and other accessibility features are integrated into the overall design to communicate a cohesive statement. "We designed these elements so they're not intrusive or perceived as negative, but reflect the integrated way we thought about the design," says Diamond. "I hope there's a subtle message that these students are deserving of well-designed, high-quality spaces that will lift their spirits and help them commit to their course of learning."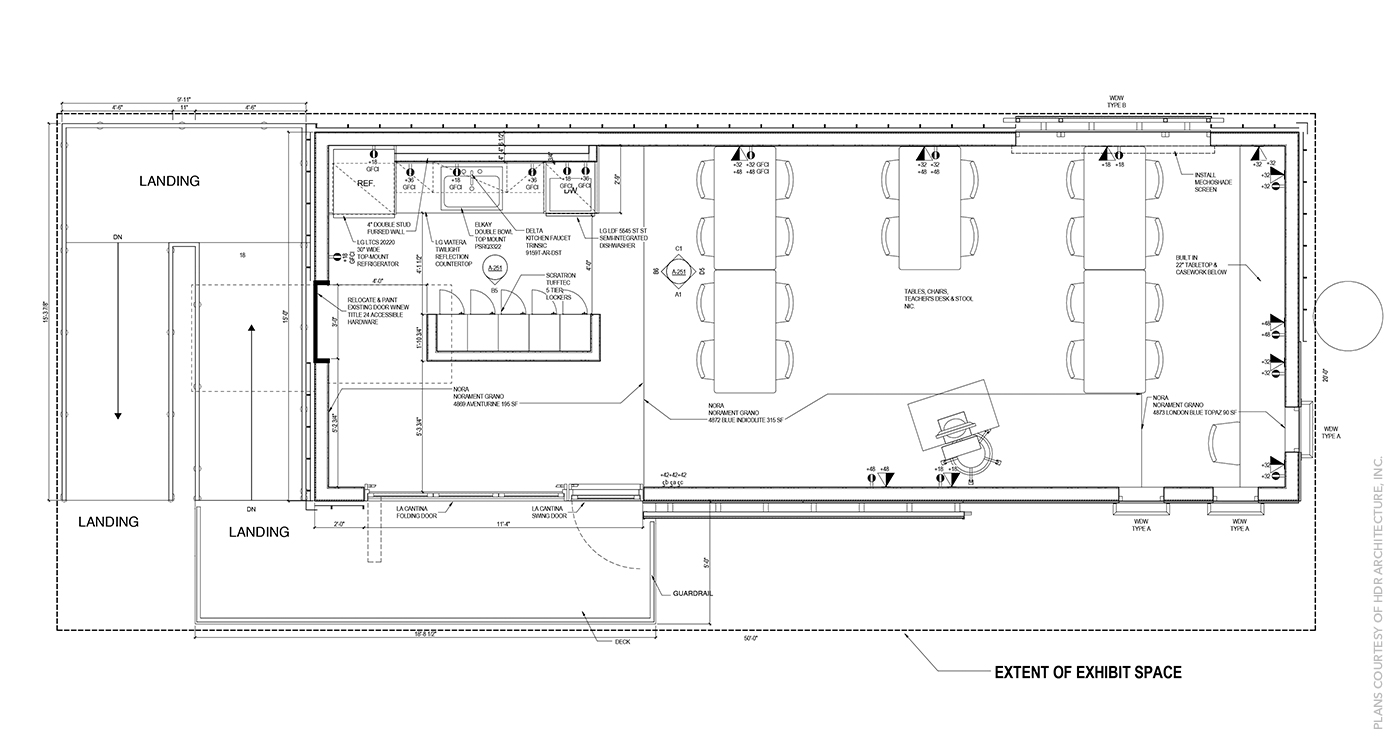 MODULAR BENEFITS
As a long-time advocate of modular building, Young is eager to showcase the advantages of this specialized construction method to a wider audience.
"Because modular building components are manufactured in a controlled environment off site, you can maintain much tighter tolerances than you can on a construction site," he says. "You're also able to control your products a lot better than you can on site. By tightening the standards that are built into our industry, we can inherently deliver much better projects." For HDR's Diamond, the Compton YouthBuild project represents the first full-scale prefabricated building she has worked on since she was an architecture student at Technion – Israel Institute of Technology, Haifa, Israel.
Though she has always been fascinated by the modular construction process, Diamond is most excited that technology is extending the reach of design by opening up new customization possibilities that previously have been out of reach because they were cost prohibitive. "New fabrication processes are allowing us to harness the power of computers to drive a new sense of craft," she says. Prefabrication also provides opportunities to push the envelope from a sustainability standpoint.
"The ability to achieve a zero waste project or product really happens at the factory and not in the field, so the more you can build in a factory setting, where you can recycle 100% of your waste, the more efficiency you can build into the solution," says Diamond. "These are disruptive changes, and I just enjoy every time we get to touch, learn from, and explore these pieces."

A MULTI-FUNCTIONAL SPACE
The Compton YouthBuild Education Center will function as a traditional classroom, workshop space, sustainability laboratory, and community outpost. Collectively, its multifaceted roles will provide a model of green building innovation for the entire Compton community and region.
During weekdays, the space will serve Compton YouthBuild students as a construction classroom and workshop space. On evenings and weekends, the education center will be shared with community and nonprofit organizations to showcase green building innovations to the broader community.
"If we want our communities to be invested in a sustainable future, then we have to show—and in our case, showcase—what green building strategies can do to improve the sustainability and affordability of home ownership," says Sara Silva, Co-founder of Compton YouthBuild. "By educating the community about the many benefits of sustainable building and retrofits, we can build a synergy of like-minded individuals who want to work for the long-term health of the city of Compton."
Cost burden is Compton's most pressing housing problem, with 67% of the city's low- and moderate-income households paying more than 30% of their monthly gross income for housing costs.
Compton YouthBuild plans to partner with community housing advocacy organizations, including Neighborhood Housing Services of Los Angeles County and the city of Compton's Successor Agency, to host homeowner workshops and other events at the building. "Through the demonstration of green building and sustainability techniques, residents can reduce their cost burden while simultaneously improving the community around them," says Silva.