HDR Architecture, Inc.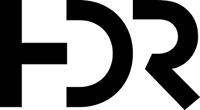 Our design for this year's GreenZone education center delivers the message that Compton YouthBuild students and the community they live in deserve the best 21st Century learning environment possible. Along with our partners, we have provided a durable high-performance building envelope that will endure—and most importantly, provide educational opportunities—for decades to come. With a kitchenette, deck, handicap ramp access, and indoor/outdoor workspaces for students to learn hands-on construction skills, the project team took considerable effort to ensure that the environment supports project-based collaborative learning. The 15x40-foot structure is not only educationally engaging, but it illustrates sustainable design that will position students well for career opportunities in the 21st century.
"HDR is very proud to be involved in this project because it's a great demonstration of the triple bottom line of true sustainability—addressing social equity and the economics of job creation is just as important as utilizing sustainable materials and achieving overall resource conservation," says HDR Design Principal Kate Diamond, FAIA, LEED AP.
About HDR
HDR has partnered with clients to shape communities and push the boundaries of what's possible since 1917. We specialize in engineering, architecture, environmental and construction services. With nearly 10,000 employees in more than 225 locations around the world, we think global and act local. As one of the nation's largest architecture/engineering firms (No. 5 on BD+C's 2016 Giants 300 list), HDR's project portfolio ranges from prestigious academic medical centers to innovative research facilities and iconic civic structures. The firm also has a longstanding commitment to sustainability. More than two decades ago, HDR established its sustainable solutions program to integrate sustainability into all of its business practices and reduce its overall environmental impact.